Costa Brava Living
>>

Walks and other things
Platja de Castell and La Fosca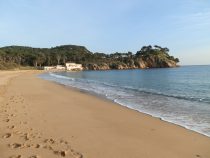 This is another classic Costa Brava GR92 coastal walk between Platja de Castell and La Fosca, just north of Palamos.
Even though we do other walks, sometimes just walking by the sea is just right. Particularly in winter when the sun is out, it's warm but the beaches are empty and there is no noise except for the waves breaking on the shore.
This walk starts in Platja de Castell - an isolated but large sandy beach that has been left deliberately unspoiled.
Access is along a lane from a junction off the C31 and there is plenty of parking at the bottom of the road.
You can walk in either direction from the beach - either into the hills towards Cap Roig (for another day), or head South around the costal path towards La Fosca.
The walk itself is easy and flat around a couple of headlands where fishermen's huts snuggle into the bay hidden except to walkers at Cala S'Alguer.
Above the start of La Fosca beach are the ruins of the Castell de Sant Esteve de Mar - a former seat of the lords of this area.
In the water beneath the castle, the snorkelling and diving are excellent though it would be too far to swim from the main La Fosca beach.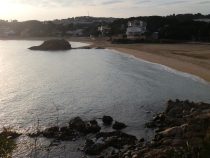 La Fosca itself is Palamos's hidden gem. Two sandy arcs reach into the bay separated by a solitary rocky presque-isle.
Behind the beach are low rise residential buildings laid out tastefully without disturbing the scenery including older modernista buildings.
If your impression of Palamos is more of the high rises along the main St Antoni beach then La Fosca is a complete contrast - a gentle cultured location with people playing boule by the beach.
In summer the water is shallow making it an excellent beach for children, though at times in the height of the summer the water can be clouded by harmless but naturally occuring algae as the water termperature reaches a maximum.
For the walk back we head out of La Fosca to the top road. A signpost points back towards Castell passing around Kings Campground.
The walk passes the back of some old beach-side mansions before crossing into fields and then a small wood with a bridge crossing the stream that feeds Castell. In summer in the stream is usually dry, but in winter particularly after heavy rains, the stream is strong enough to divide Castell beach into two parts.
The footpath joins the bike path (part of the Petit Tren route from Palafrugell) and then back down to the car park.
Update 2021: The Cami de Ronda route between La Fosca and Platja de Castell has been updated making it a little more of a strolling path, and the area around Platja de Castell has been overhauled moving the car park further back from the beach and making the whole area feel much more natural.
Neighbouring walks: Calella de Palafrugell/Cap Roig to Castell - classic wild Costa Brava - Mont-ras to Calella de Palafrugell and Llafranc - La Fosca to Palamos - Bell-lloc and Castell de Vila-Roma (Palamos) - Eulogy to the Ruta del Tren Petit (Palafrugell, Palamos, Mont-ras and Vall-llobrega)
Swimming: Swimming and beach at La Fosca