Costa Brava Living
Walks and other things to do in the Costa Brava for people who aren't here just for holidays.
The Costa Brava is one of those places people imagine they know without ever visiting, lumping it with the Spanish Costas, the Costa del Sol or Costa Blanca, all sangria, siestas and sombreros. But it isn't. The Costa Brava is Catalan for a start. And the Costa part of the Costa Brava though truly beautiful, is only the start. Inland are ancient villages, castles, meadows and woods reaching all the way to the snow-capped Pyrenees.
Outside the six-week summer high season it is a land of walking, cycling, gourmet food and traditions. This is our blog of walks and other things. The walks and pictures date from November 2012 onwards and the photos were actually taken on the walks described.
Please feel free to contact us for more information, help planning a tour or possibly for a guided or accompanied walk. If you are looking to find somewhere specific you can search the site for walks in specific locations.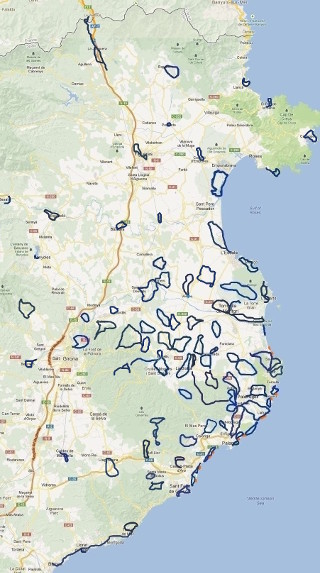 This is our blog about living in the Costa Brava. We like to visit places. We walk (a lot) particularly into and around the Gavarres. Sometimes we travel around on bike. In the summer, we swim and canoe.

The walks have been walked since November 2012, and we add one or two a week(ish - though we're slowing down now). The photos are straight from the walk or activity. We like to make circular walks and our walks range in length from about 4km (an hour) to around 16km (four hours) - but probably about 2 1/2 hours on average - though if you want to reduce the length, there are usually shortcuts. The map on the right shows where the walks are and will be updated as we continue to add more.

The entries on swimming and beaches also start from Summer 2013. Unlike the walks which are reported as we did them (including photos), for the swimming and beach articles we're going to update them over time.

Most Viewed
The Costa Brava is a fabulous area of the world to live with its mix of countryside, coast and restaurants. In recent years, road connections have improved and it is now possible to reach Barcelona in an hour and a half or so by car or by train. The airport at Girona has flights across Europe while Barcelona Airport connects worldwide.
Common general questions about the site, the Costa Brava and walking here.
If you want help with web-site design or web development or new internet or mobile ventures on the Costa Brava we are building links to designers, programmers, writers, artists and other creative professionals and freelancers. Some of our best photos of the Costa Brava can be purchased full-size or on mugs etc at RedBubble.