Walks and other things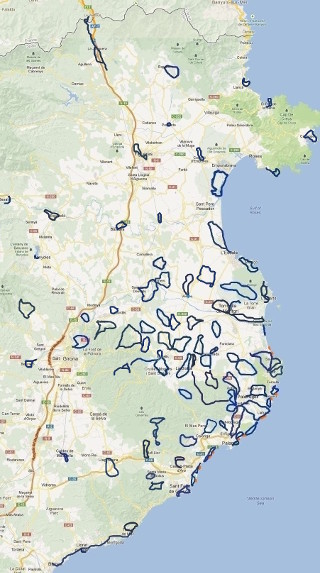 This is our blog about living in the Costa Brava. We like to visit places. We walk (a lot) particularly into and around the Gavarres. Sometimes we travel around on bike. In the summer, we swim and canoe.

The walks have been walked since November 2012, and we add one or two a week(ish - though we're slowing down now). The photos are straight from the walk or activity. We like to make circular walks and our walks range in length from about 4km (an hour) to around 16km (four hours) - but probably about 2 1/2 hours on average - though if you want to reduce the length, there are usually shortcuts. The map on the right shows where the walks are and will be updated as we continue to add more.

The entries on swimming and beaches also start from Summer 2013. Unlike the walks which are reported as we did them (including photos), for the swimming and beach articles we're going to update them over time.

Most Viewed
Comments

adam@veggingoutwithadam.com

17 Feb 2014 19:46

What a great blog. I am planning a walking holiday in the region and wonder if you can recommend the best walking maps, like UK ordnance survey ones.

I shall be reading more of your walks over the coming days as we plan.

Many thanks
Adam

Saul

24 Feb 2014 17:25

Glad you're enjoying it. We have recommendations for maps in our 'Advice and FAQ' section

Saul

13 Jul 2017 12:46

Sorry I missed the comment, so I hope it's not too late - use the contact box if you'd like to send a message. For the coast, the GR92 is best and if you have driver you can just take it piece by piece. For hikers, around Cap de Creus is great, though it can be dry and hard walking in summer. For us, the stretch between Palamos and Palafrugell and on to Begur is the prettiest part of the whole Costa Brava and really good for walking. I'd probably also take the walk up and over Montgri, possibly starting at Pals, or L'Estartit to L'Escala. And though you said you prefer the coast, don't overlook inland routes as there are some wonderful villages and countryside out towards Girona, La Bisbal, or Olot.

Sven-Gunnar Furmark

24 May 2017 11:43

Hi,

My name is Sven Furmark. I am from Sweden. I plan to go to Costa Brava with some friends (totally about 10 people) for hiking for one week (5 walking days). We are experienced hikers and we usually walk 4-6 hours per day. We prefer to walk along the coast as much as possible. We plan to rent a house and travel to each days hiking with a bus & driver which we plan to book for the whole week. Which five hikes would you recommend for us.

Warm Regards
Sven