Costa Brava Living
>>

Walks and other things
Bordils and the tree plantations of the Ter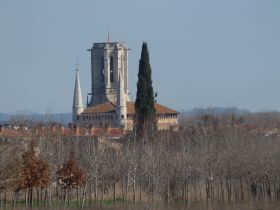 Bordils is one of the towns on the northern C66 route from Girona to the Costa Brava via La Bisbal that tracks the river Ter. From the main road the impression of Bordils is of a string of buildings along the main road, when in actual fact the town, like many of the towns on this route, sits a little way off. In Bordils case this is about 1km into the plain marked by a very large impressive church.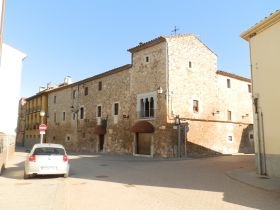 We're actually back in Bordils to watch a handball match so this is a short exploration of the town and the area around, but because of the match we start at the sports stadium and then follow the road in towards the main church. Most of this area is an estate of large modern homes and it's not until we get closer to the centre that we get to see older buildings and a more classic nucleus.
From the size of the church and the style of the buildings the town itself looks as if it was a wealthy farming community. The church is tall with a apse flanked by two pointed towers, but the heart of the village is relatively small apart from a number of larger masias.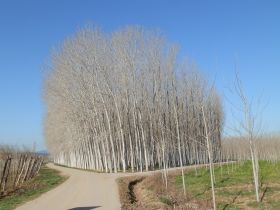 After circumscribing the town centre we head out into the farm land and trees. Mostly the trees are fruit trees growing in the fertile soil and ample water from the river Ter, with large birch or beech plantations. The morning is fresh but in bright sun so even though the trees are without leaves the light adds sharpness and depth.
The road is empty apart from a cyclist and there is nothing around apart from the trees and two or three very large masias, and it's not just fruit trees - there are also specialist plantations of palms and decorative trees for garden centres. The road turns naturally to the left and we pass between two old masias and then start to approach the main road and industrial area. One of the masias was an old mill and still has water passing underneath, though it's now waiting for renovation.
We follow the mill stream back through the large warehouses of Girona Fruit and back across the fields to the sport centre.
See also: Girona and Castell de St Miquel - Roman fort at St Julia de Ramis (Girona) - Madremanya, Els Angels, Sant Marti Vell - Celra, Juia and the Castle of Palagret - La Pera, Pubol and around - Sant Jordi Desvalls, Colomers and Sant Llorenç de les Arenes