Costa Brava Living
>>

Walks and other things
Girona Temps de Flors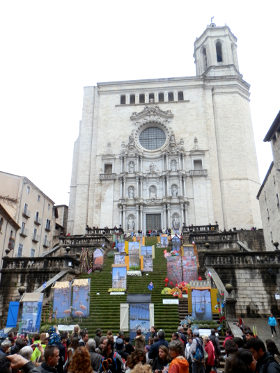 In May, Girona has its Temps de Flors (time of flowers) festival where the city has a floral festival with displays of flowers, and installations in many of the buildings in the heart of old Girona and out in the parks. We visited in the rain which we thought would keep crowds away, but the Sunday was extremely busy with people, the restaurants and cafes looked full and streets packed with umbrellas. Below will be some photos of some of the things that were on. There's too much to see everything, but it's a perfect time to visit the city - even the rain didn't matter too much.
The exhibits are very varied. Street decoration could be very simple with flowers lining the steps, or hanging displays, or some very large installations, including, for this year, a large display with a sword harking to Girona's recent use as a location for the "Games of Thrones" series.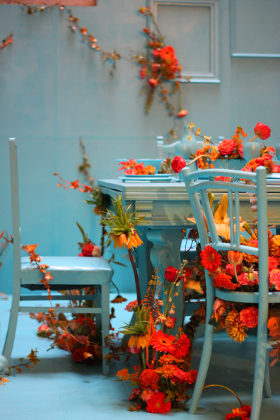 In contrast to the exterior street displays many of the buildings and museums in the old city were open and had various displays - often very artistic in nature. As a time to explore it would be perfect with the city itself acting as a backdrop, but with the chance to sneak a peek in some corners of the city that otherwise might not be accessible.
The only slight problem was the crowds which made everything quite busy. The rain was encouraging people to go to the interior displays perhaps more than might happen in better weather, but in some ways it added to the atmosphere with crowds still eating outside, but underneath the arches or under umbrellas outside the restaurants.
The crowds though weren't combing very well with bringing our dog Zina with us. So we didn't visit too many of the interior displays and instead headed out through the old city gates towards the Sant Daniel area underneath the cathedral. In this area more of the displays were in the gardens with a little more space than in the confines of the streets. These were also more garden type displays filling the space with colours.
We walked out along the valley for a breather, before coming back into the city at top, just under the walls at the quieter Jardins dels Alemanys to find more exhibits.
Girona walks: Girona valley of Sant Daniel - Gavarres Montnegre and Montigalar - Ruta del Carrilet - Girona cyclepath to the coast - Bescano, River Ter and free-style kayaking - Girona and Castell de St Miquel - Roman fort at St Julia de Ramis (Girona)
Nearby: Figueres and Castell de Sant Ferran - Olot - capital of Garrotxa - Banyoles lakeside walk - Visit to Besalu and Banyoles