Costa Brava Living
>>

Walks and other things
Ceret (France)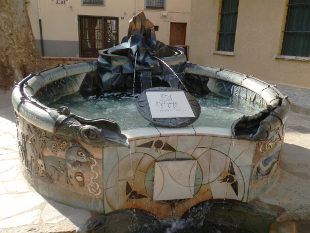 Ceret is a delightful French Catalan town, just the other side of the French border, just over an hour from the heart of the Costa Brava with a understated unspoilt charm and a strong connection to the Modern Art movement at the start of the 20th Century. Though it is marked from the autoroute, it's a town we have overlooked as we've headed more to Perpignan, to the mountains (eg Villefranche de Confluent) or to the coast - for instance to Elne on our previous French day-trips.
Ceret main claim to fame was though its connection to many famous twentieth century artists. Pablo Picasso (during his cubist phase) and George Braque were residents in 1911-1912 (eg see Picasso's Landscape at Ceret from the Guggenheim), attracting other famous artists like Chagall, Matisse and Modigliani. Ceret now has a Museum of Modern Art with works donated by these illustrious former residents.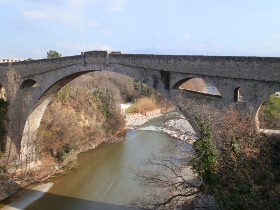 Now it's fair to say that we didn't know this before we visited - we were looking for somewhere new to go before doing our periodic foray into French supermarkets for cordial, cheese and a few other French delicacies that somehow never seem to cross the border, or are otherwise have massively over-inflated prices in Spain. As a result we haven't yet visited the museum, but from this one visit, Ceret now ranks as our favourite French Catalan town.
We parked just outside the town's outskirts on the far side of the river Tech and walked across the Devil's Bridge (Pont du Diable) - the old, very high, medieval stone bridge across the river that sits next to a modern road bridge. From here it was just a question of following our nose to reach the old town centre, a pleasant stroll through well-kept houses.
Though Ceret is definitely Catalan (road names are still in Catalan, often with a French alternative), it is a town that feels typically French - shutters on the windows, coloured walls on the outside of the buildings, people sat outside the cafes and tall plain trees for shade.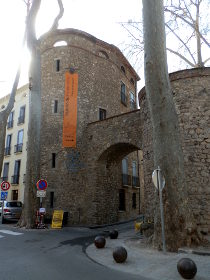 The first place of interest we came to was the large town gate flanked by two round towers (the Porte de France). This leads to old cobbled streets in the old centre, that curl around what would have been the town wall before coming together in the main town square or placa, with the Gran Cafe and hotel and a tower and arch construction which are what is left of the towns Porte d'Espange, at the back of which is a modern art fountain built to celebrate the towns connection with modern art with a copy of Picasso's Sardanes work. There are several little squares in the maze of streets and a number of different fountains through the town.
The town boasts two museums - the art museum mentioned and a museum of musical instruments, but this time around we didn't visit, but we may well come back in May for the town's cherry festival.
Also in France close to the Costa Brava
White water rafting in Quillan (France) - Collioure (France) - Villefranche-de-Conflent and Mont-Louis (France) - Perpignan - Elne (France) - Andorra La Vella - La Jonquera to Fort de Bellegarde (France) - Portbou to Cerbère (France) and back
Comments

13 Jul 2019 13:49

Sorry can't help with costs. Best to look up an estate agent for an idea of costs. From the shopping we do, French food costs a little higher than in Spain, but often with a bigger selection.

24 Apr 2019 11:46

Good morning! My husband and I are searching for a beautiful town like Ceret for retirement. We would like to know the cost of living, apartment rentals and any other information that will help us in our search. Thank you.