Getting lost
Getting lost is a common (and enjoyable) hazard when walking new routes on the Costa Brava. Broadly speaking you can follow most paths and tracks that you come across except those marked Cami Particular (private road). In the woods there are tons of routes and hunter trails many which aren't marked on maps.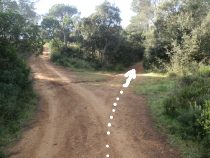 Walking in the Costa Brava or Catalonia or Spain, or any new country can be a little daunting to start with when you are uncertain as to what paths are open and what paths are private and what the general etiquette of walking is, particularly in and around farms or private tracks. When you miss a junction, follow the wrong path, or just want to get a better view, or aren't sure where the path goes, it can be a little disconcerting if you don't know the local norms and it can dissuade someone from trying new routes or exploring a little more.
Fortunately our experience is that almost any tracks in the Costa Brava that are not marked as private (Cami Particular means private track, or No Pas) and which don't have a physical barrier at the start can be walked. Catalonia is a great place to walk , and there are increasing numbers of signposts and selected walks, both for fitness and for tourism. Major paths and walking routes are also often marked on trees and rocks - for instance the GR92, the main coastal path (a real joy to walk) is marked by red and white flashes painted at the key points. And if there is a junction a red and white cross indicates don't go this way
At times this can be extremely useful. On occasions paths like the GR92 pass through a farmyard, or the backs of houses (eg at Fornells where the signpost seems to go missing every year), or in one notorious case towards Blanes/Lloret (if I remember it correctly) pass through the garden of a clifftop villa that had been bought by Russian billionaire and was monitored by armed guards when we walked through. Occasionally the 'No Pas' sign will be placed ambiguously and in these cases a map is a useful check to see if the Don't Pass means the road or the land to the side of the road.
The other slight pre-occupation of getting lost are the more remote farms and small-holdings and in particular dogs. Anywhere a little remote or unusual strangers passing through can be seen a little with suspicion (another reason for holding a map) not because you have done anything wrong, but because remote smallholdings and remote casitas are often preyed on by burglars or vagabonds. Because of the risk of theft, many of these places have dogs in their yards - normally fenced in or with the dogs on a chain, but you can get a sudden surprise when a dog suddenly crashes against a fence you're walking past.
The only time we have really felt uncomfortable because of dogs was walking through an few urbanisations close to Barcelona. Some of the dogs had got out which meant that we were met by a pack of six or seven on the road barking loudly and aggressively. We walked through slowly carrying sticks, but normally there are no problems.
In general though, walking on the Costa Brava and inland through Emporda and across Catalonia is a joy. Even if we have to walk on a road, in general it's quiet as there is much less traffic here, and more remote places are connected via gravel tracks with walks on the plains, in the hills, along the coast, through unspoilt medieval villages, along rivers, or into the mountains and snow, or even just an evening passeo in front of bars and restaurante, there is a type of walking for everyone.