Costa Brava Living
>>

Walks and other things
Mont-ras Festival of Corpus Christi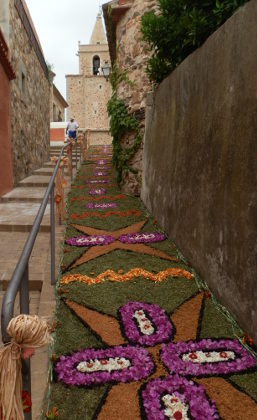 Mont-ras, as we've said before, is our neighbourhood and this year, for the second year, it held a Festa de Corpus Christi in the old-part of the village. The highlight of the festival was the construction of Catifes de Flors (flower carpets) along the route up to the church and in front of the church. The flower carpets have been a village tradition for many years, but only recently has it been combined into a general village event with craft stalls, capgrosses (part of the Spanish and Catalan tradition of people dressing up as giants or with big heads - literally capgrosses).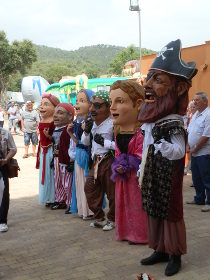 Catifes de Flors can also be found in other Catalan villages and are made from flowers, petals and leaves laid out on the ground to form a picture or design. The petals dry quickly in the sun, so they are constructed in the morning both for decoration but also as part of the procession of Corpus Christi.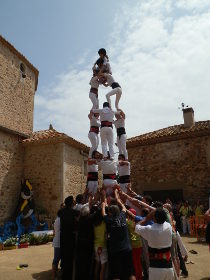 Corpus Christi itself is a Catholic feast day, so the church plays an important part of the ceremonies, but there is a lot of other things to see too. As someone not too familiar with Catholic traditions, this celebrates the Eucharist - the belief that the bread and wine of communion are considered to be transformed in the body and blood of Christ. On Corpus Christi, the transformed bread is placed in a monstrance and shown around the village by the priest dressed in finery and his entourage. As the procession returns to the church it walks over the flower carpets, before prayers in front of the church and the blessing of the Capgrosses.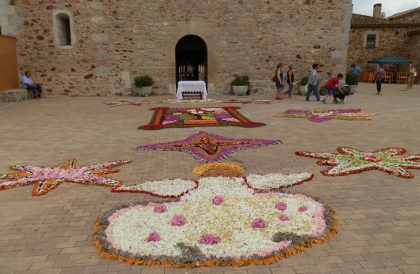 Mont-ras has turned this into a more general village festival. The streets below the church are laid out with craft stalls selling everything from baskets made by the local basket-weaving club, to pastries and jams from restaurants and crafts like woodwork or needlework. In the car park at the entrance is pony riding, and the village hip-hop dancers and Colla de Mont-ras festival float is around.
The highlight for us was seeing Castellers building the very typical catalan human towers in the square to the side of the church.
See also: Mont-ras to Calella de Palafrugell and Llafranc - Mont-ras 'boar' walk - Mont-ras Fountain walk - Llofriu, St Llop and Torrent