Costa Brava Living
>>

Walks and other things
Palafrugell Festa de Primavera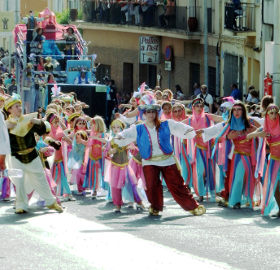 Palafrugell, unlike other towns on the Costa Brava, doesn't celebrate Carnival (Carnestoltes in Catalan) - the great Catholic festivities just before Lent when people dress up and parade through the streets. Instead, Palafrugell saves up for the Festa de Primavera, this year because of a late Whitsun at the start of June, but normally in May.
The highlight of the festival is a grand carnival procession with floats, dancers and music that wends its way through the main streets of the town full of colour and creativity taking 2-3 hours for a journey that would take 10 minutes to walk. Each float is richly decorated and has large sound systems that blast out the music for the dance routines for the troupe that follows, pausing for a few minutes to perform where the crowds are most dense more moving on to the final performance for the judges.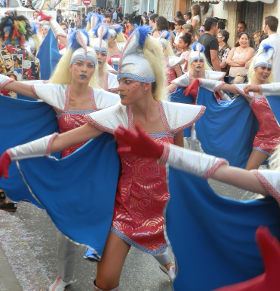 Since our eldest daughter likes to take part, we know it takes hours and hours of practice on dance routines and costumes with groups trying to win prizes for the best 'show' that are handed out at the big after-party festival that takes place in the evening. The festivities are big enough that they are shown live on the local Costa Brava TV station.
In practice, with all the effort required, many of the more serious Collas - the groups who make and decorate the floats and who dress up and arrange the dance routines - actually take part in several of the festivals that can be found up and down the coast. This year Palafrugell had groups from Sant Feliu and as far away as the Garrotxa out towards Olot. Most start with the Carnival at the beginning of Lent in Palamos or Platja d'Aro - but the weather can be showery and the evening a little cool in the days before the clocks change - so more places now have a Festa de Primavera in the May or June sunshine when there are more visitors about.