Costa Brava Living
>>

Walks and other things
Swimming and beach at Platja d'Aro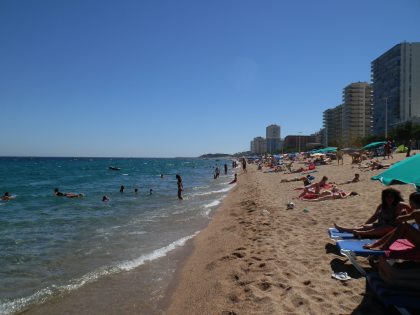 Platja d'Aro (sometimes written by tourists as Playa d'Aro in the Spanish translation of the Catalan name), is a classic package holiday type beach-side town resort on the Costa Brava at the end of the Aro valley.
The town consists of a number of high rise buildings and hotels running along a broad long beach, backed onto by a main street full of shops, bars and restaurants.
Further in the back are a children's attraction park and a large water park and large estates of villas and holiday homes.
The town is popular with Dutch, German and Spanish tourists (very little sign of English about).
For locals Platja d'Aro is a main shopping area as it has main Spanish high-street chains like Zara and Mango and a large retail park.
Though it is a classic package holiday type resort, it is smaller and more refined and family friendly than Lloret or more infamous beach resorts on the Spanish Costas like Benidorm.
The whole town sits on a wide and open bay with a long wide beach. At the northern end of the beach, are a series of rocky bays around to Torre Valentina. At the south end is a port marina but there's about 4-5km between the two all of which counts as the Platja Gran.
The area being open, can suffer a little from wind but this doesn't seem to detract from sunbathers.
Facilities at the beaches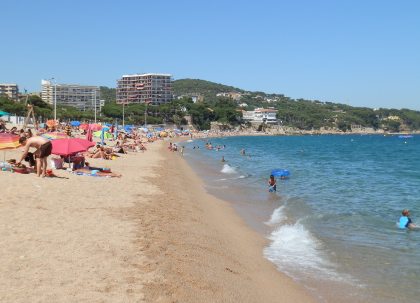 The beach has bars, shops and restaurants directly behind it at the feet of the high rise apartment blocks and hotels. In front of these shops and restaurants is a long pedestrian avenue for taking a passeo. This avenue has a number of fountains, statues and water features and is well cared for.
The beach is long and wooden tracks run down from the avenue towards the water at various points. There are also regular shower points and lifeguard stations. Like many bigger beaches, it has a banana-boat attraction - a long sit-on inflatable pulled by a motor boat until everyone falls off.
The bay is marked off for swimmers quite a long way out. And in summer floating islands are put up in the water as platforms to swim out to (about 30-40m out from the side). There is a platform about every 350m.
A boat picking up flotsam that might have blown into the sea regularly runs through the water keeping the water clean.
Sand quality
The sand is not great. It's gritty made up of small pea or rice-sized stones and though not painful underfoot it's not a classic beach-sand experience.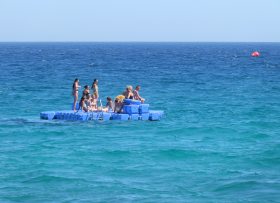 Swimming
For such a large beach, the water is very clear. However the beach shelves deeply so you are out of your depth in a matter of a few metres.
With the water being cleaned regularly it's quite pleasant to swim, though being open it can become wavy quickly.
The swimming platforms offer good targets for long distance swimming.
Though the water is clear, the bay is sandy at the bottom and though there are occasional fish to be seen, it's not the best beach for snorkelling.
Parking
There is plenty of parking in town with a number of large town car parks behind the main shopping streets. Some are pay-for parking, but the main market car park just beyond Bonpreu, a little walk to the beach, is free.
Walks
Platja d'Aro is mainly for shopping and passeos. It is possible to walk to S'Agaro to the south or Torre Valentina to the north or out to Castell d'Aro along the river valley. However you'd probably want to start closer to get off the main strip first.
For walks see: Platja d'Aro and S'Agaro
Next beaches
South to Sa Conca, S'Agaro - North to Belladona and bays to Torre Valentina (Cala Rovira to be added)