Costa Brava Living
>>

Walks and other things
Verges - Dansa de la Mort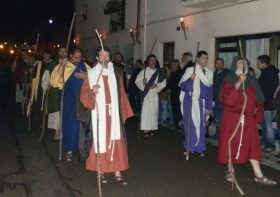 In both Spain and Catalonia, the Catholic church is a very important part of the history and culture of the region. Around Easter many places in Spain have processions which tell the Easter story. And in towns at Easter you'll find people dressed as Roman soldiers and disciples acting out the story of the crucifiction.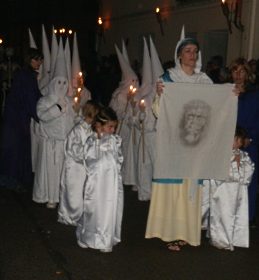 In the Costa Brava area, the most important of these traditions is the procession which takes place at night in Verges. Known as the Dansa de la Mort (Dance of the dead) as it includes a dance of skeletons as part of the procession. This is so famous that it attracts thousands of visitors to see the spectacle.
The evening has several parts. During the early evening, a re-enactment of the life of Jesus takes place in the village centre (a ticket only event). Then at midnight, the procession starts and slowly winds through the streets under the light of burning torches fixed to the buildings.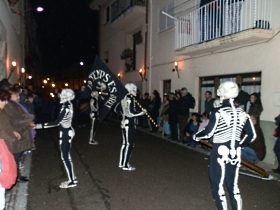 We just went for the procession and the place was absolutely crowded, though the centre at the heart of the village was closed off to all but ticket holders. Not knowing where to go or what was going to happen, we found a place which seemed to be on the route and waited.
According to the programme, the procession left the village centre at midnight, but it was almost 01.00am before it passed our location, which according to the route plan was about half way round. The procession itself was very long - it took 45 minutes to pass us. Firstly a troop of Roman soldiers marching in formation beating drums, then a group representing Herod, followed by a Simon figure carrying the cross with Jesus ahead of him being berated and taunted, followed by the other crosses. Behind them, the women (Mary), then the disciples and group of children in the classic spanish pointed hoods. This was followed by five skeletons dancing - the main iconic image of the Verges procession. After which came groups carrying or pushing the sacred icons and statues from the church.
We left after the procession had passed us, but it still had about another half to go, before a final ceremony back in the centre of the village.
Neighbouring walks: Verges, Tallada d'Emporda and Maranya - Colomers and Jafre - Vilopriu and Valldavia - Serra de Daro, Fonolleres, Sant Iscle d'Emporda - La Pera, Pubol and around - Parlava, Rupia and La Sala