Walking Maps of the Costa Brava
For exploring the Costa Brava for even the well known paths like the GR92, it's very useful to take maps, particularly for new areas. Not every path is always on the map, but at least it means you know when you're really lost. These are the maps we use.
The maps we use are the following: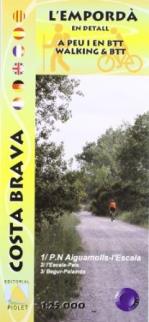 For relatively close to the coast from Palamos up to L'Escala/Empuriabrava. "L'Emporda en Detall" Editorial Piolet - a collection of three detailed 1:25,000 walking and biking maps (picture to the left).
These don't stretch as far as La Bisbal to the west, or too far into the Gavarres but is very detailed for the coastal paths and routes.
There is also a separate fourth one in the series (Cap de Creus en Detall) which was added last year and covers the area of Roses, Cap de Creus and Llanca on a double sided map.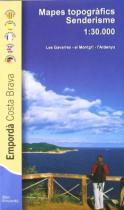 For a wider Emporda area from St Feliu de Guixols to L'Escala and as far west as Llagostera - we use the 'blue' maps (picture on the right): Emporda Costa Brava 1:30,000 Editorial Piolet
The blue maps come as a collection of two (North and South) with a dividing line just south of La Bisbal and includes a large part of the Gavarres - though not the Girona side - and is the best map for walking when away from the coast.
An addition that we've just discovered (in Dec 2013) is the Green Institut Cartographic de Catalunya (ICC) 1:25,000 series of maps suitable for walking that provides very good coverage for many, but not all, inland areas.
These Green maps cover areas around Girona, Banyoles and Ripoll. It's an ongoing project that is still being extended (the area around Girona was published in June 2013).
For walks in and around Girona itself including into the Western part of the Gavarres and Garrotxa, the Green maps fill in areas not covered by the Emporda Costa Brava map and extends out to the west of Girona for Angles and some of the northern fringes of Montseny and the hills of Rocacorba.
Also in Green Costa Brava Sud (December 2013) covers the previously neglected area around Tossa de Mar and Lloret for the southern part of the Costa Brava which is more easily accessed on public transport from Barcelona.
Some areas are not yet covered by the Green ICC series or other walking maps but coverage is improving, so as a last resort we end up using the Yellow Institut Cartographic de Catalunya series which are at 1:50,000 so at the limits of being useful for finding footpaths.
On the Yellow maps you'll find tracks but nothing really smaller. None of the ICC maps are listed on Amazon but many bookstores in the local area have them and you can order online directly from the ICC.

This year (2015) Alpina have just published a multi-lingual map/guide to the Cami de Ronda (GR92). It's on Amazon Spain but you may need to check if it's available outside Spain. Otherwise local bookstores/stationery shops sell it in the towns on the Costa Brava.
For other walking areas in Catalonia there are a range of options - for instance the ICC series mentioned above, or maps and walking guides from Editorial Alpina/Geo-Estel which cover the Catalan National Parks regions like the Garraf, Montserrat or Montseny, or other maps that run into the Pyrenees.
Many of these maps are widely available in local bookstores, or even Decathlon sports shops.
If you are in Barcelona then the bookstore Altair in Barcelona (Gran Via 616 between Balmes and Rambla de Catalunya) specialises in maps, guides and travel and has a complete collection for the Costa Brava and Catalonia as a whole.
Comments

04 Mar 2015 12:52

So incredibly helpful - thank you!!

09 Aug 2017 07:17

Where would you stay for a single centre hiking holiday on late September?

11 Dec 2017 13:45

Late September means the summer crowds have disappeared and much of the coast is a lot emptier. Our area around Palafrugell connects well to the GR92 with walks to Pals, Begur, Tamariu and Palamos and with easy access inland.