Costa Brava Living
Walks and other things to do in the Costa Brava for people who aren't here just for holidays.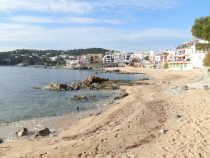 The Costa Brava is one of those places people imagine they know without ever visiting, lumping it with the Spanish Costas, the Costa del Sol or Costa Blanca, all sangria, siestas and sombreros. But it isn't. The Costa Brava is Catalan for a start. And the Costa part of the Costa Brava though truly beautiful, is only the start. Inland are ancient villages, castles, meadows and woods reaching all the way to the snow-capped Pyrenees.
Outside the six-week summer high season it is a land of walking, cycling, gourmet food and traditions. This is our blog of walks and other things. The walks and pictures date from November 2012 onwards and the photos were actually taken on the walks described.
Please feel free to contact us for more information, help planning a tour or possibly for a guided or accompanied walk. If you are looking to find somewhere specific you can search the site for walks in specific locations.